Remembering Dr. James Auvil
The passing of our good friend and colleague Dr. James Auvil brings back many fond memories.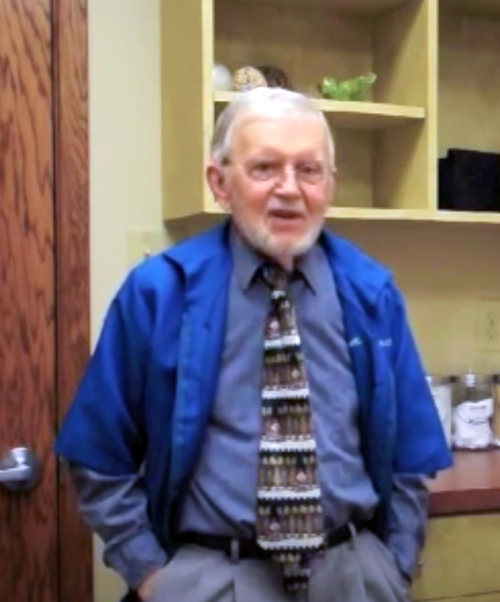 Dr. Auvil graduated from Michigan State University College of Veterinary Medicine in 1954. Upon graduation, he and his wife Ruth settled in Northern Kentucky. He built 2 successful veterinary hospitals in Northern Kentucky, Crescent Springs Animal Hospital and Covington Veterinary Hospital. He served as President of the Kentucky Veterinary Medical Association. He retired in 1984 after 30 years in veterinary medicine.
In 1985, while staying at his summer home on Lake Erie, he decided to attend a veterinary continuing education course in Cleveland. The topic was unfamiliar to him, veterinary dentistry. He came away amazed that he had been a good veterinarian for 30 years and knew next to nothing about this important part of his patients' health. And he knew he wasn't alone. Most veterinarians of that era had limited or no knowledge of veterinary dentistry and the improvements they could make in their patients' lives.
He was hooked and committed to learning more and sharing this important knowledge. He began to try to find veterinary meetings that included dentistry education, but there were very few. When he discussed this with his good friend Dr. Karl Grady, he mentioned he would like to begin practicing veterinary dentistry at Grady Veterinary Hospital, and a partnership was born. For the next year, he spent his time learning as much as he could about veterinary dentistry and traveled to practices across the country that were doing advanced veterinary dentistry to learn these techniques. He brought this passion and knowledge back to Grady Veterinary Hospital, where he began working in 1986.
But he didn't stop there. He really wanted to educate veterinarians about this new way to improve their patients' quality of life. He began putting on continuing education seminars in Cincinnati and throughout the Tri-state area. He was a founding member of the Academy of Veterinary Dentistry and an original Diplomate of the American Veterinary Dental College in 1989. In 1990, he helped organize and host the first World Veterinary Dental Congress in Cincinnati. Veterinarians from across the United States and around the world attended this landmark event. He spent the next 25 years of his "retirement" working at Grady Veterinary Hospital and continuing to educate veterinarians around the country about the importance of good oral care to their patients' health.
We were so fortunate to have Dr. Auvil's guidance and expertise all those years. As good as he was as a veterinarian, he was an even better person and beloved by all of us who worked with him.
Our pets have lost a true advocate of the human–animal bond, and we will miss him dearly.
Sincerely,
Dr. Jeff Grady