Experienced Veterinarians Serving Cincinnati
The hospital was started in 1958 by Dr. Karl S. Grady, in a house across the street from our current location. Dr. Karl enlarged and remodeled that house three times over the years to meet the demands of his increasing practice.
---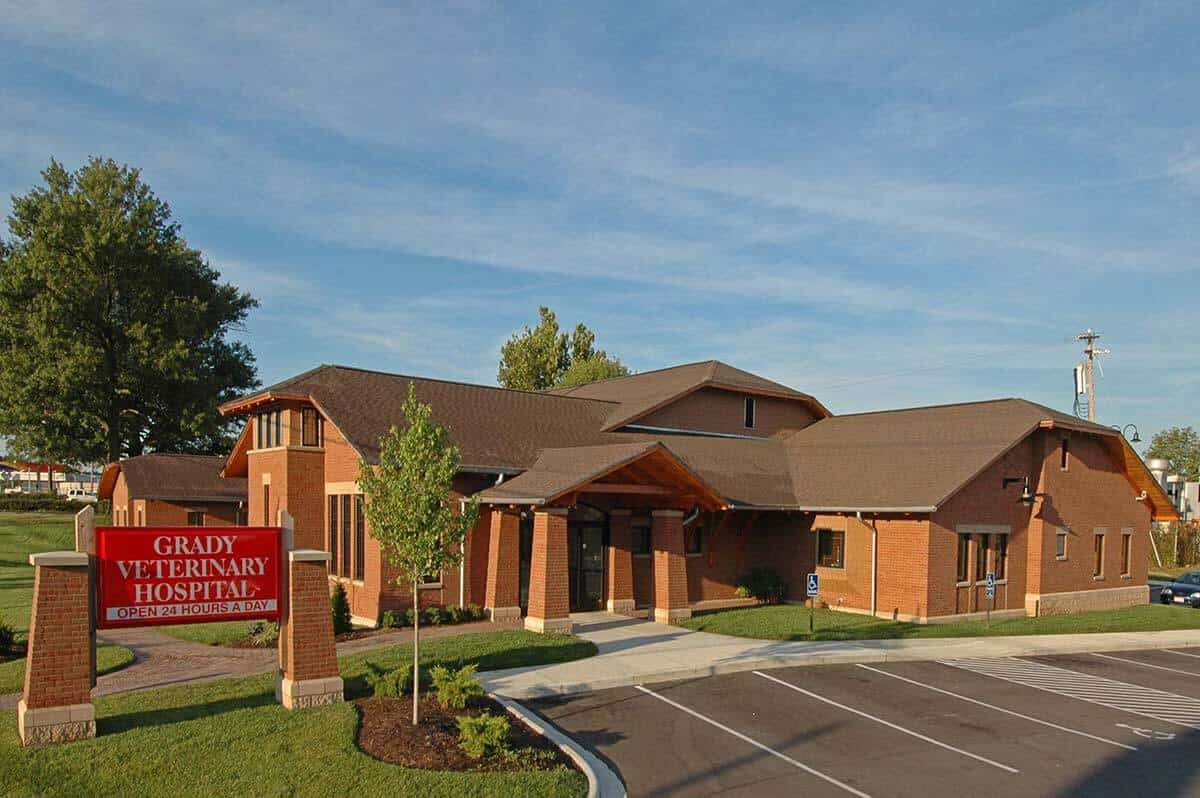 In 1974, Grady Veterinary Hospital began operating 24 hours a day, 7 days a week- the first and only practice of its kind in Cincinnati. Dr. Karl Grady's son, Dr. Jeff Grady, began running the practice in 1999 and bought it in 2001. He built the current hospital in 2005, supplying the veterinarians and staff with a modern clinical and surgical space; state-of-the-art accommodations for our patients; a pleasant, inviting atmosphere; and ample parking for our clients.
We have served the same community for over 60 years and encourage all of our professional staff members to participate in neighborhood events and volunteer at area organizations.
Winner, Veterinary Economics Award of Merit in 2005
Veterinary Economics is a monthly trade journal for veterinarians that publishes information about financial issues impacting our field. Each quarter, they select a recently built veterinary hospital for an award. A panel of five veterinary architects selects the designs that they believe are worthy of the award.
It is a big honor to be chosen, as there are literally hundreds of entries each year. All of us at Grady Veterinary Hospital were very pleased and honored to be recognized in this manner.
Article about Grady Veterinary Hospital's Veterinary Assistant Jay Rice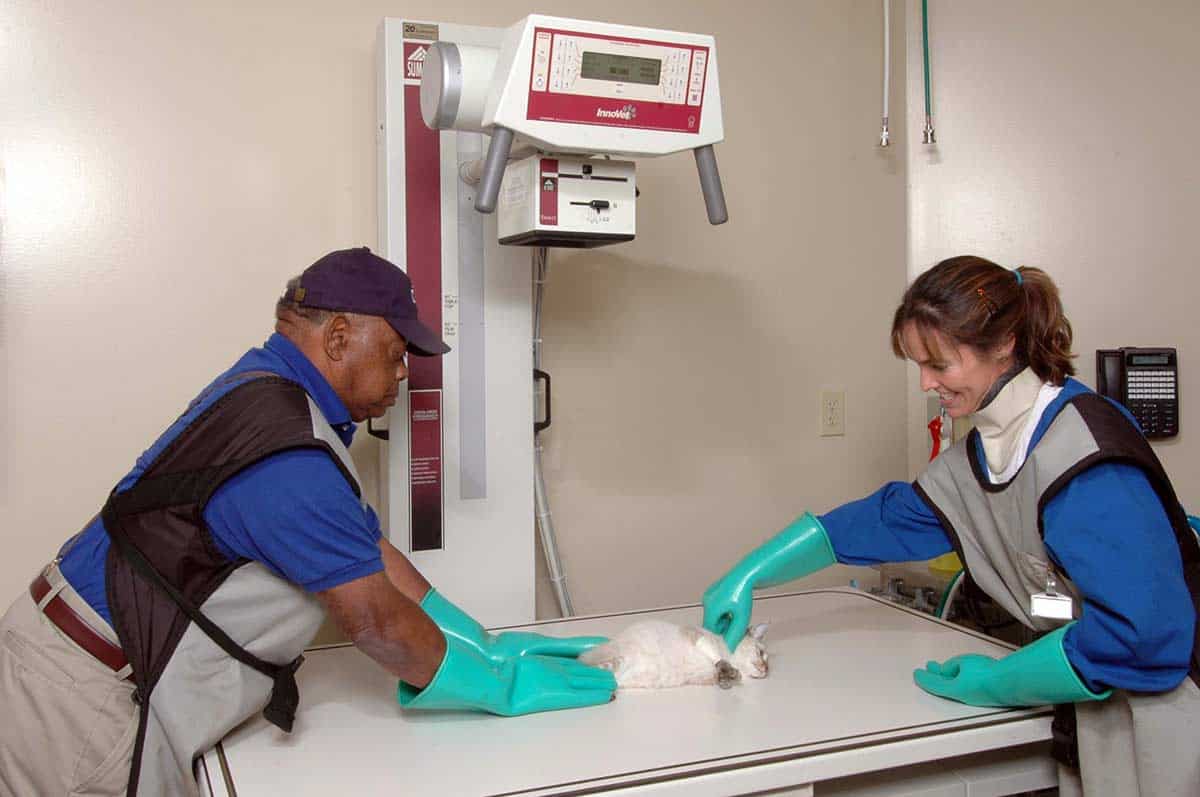 From Friends for Life, published in the Cincinnati Enquirer by Chuck Martin on October 9, 2005
Veterinary assistant Jay Rice has been a member of the Grady family for three generations.
Differences don't matter to good friends.
Jay Rice has handled hundreds, if not thousands, of dogs in his 45 years as a veterinarian assistant. But he's been bitten badly only once-and that bite didn't even require stitches. Talk to him a while, and you'll understand why dogs, cats, and humans adore the soft-spoken man. His soothing smile and gentle touch can charm the growl out of a pit bull.
On a recent afternoon, dogs whine and cats cry from their cages in the Grady Veterinary Hospital in Finneytown, which looks like an emergency room for the human species with its stainless steel tables, fluorescent lights, and hanging IV bags.
"They're just like children," Rice, 76, says of the mournful animals. "They're afraid and they want to go home."
Rice has been taking care of other people's pets since 1960, when his childhood friend, Dr. Karl Grady, called to ask if he would help him in his new practice. Rice left his home in south central Kentucky that same morning. "I started driving at 9, ate lunch, and went to work at 2," Rice says proudly.
And even though the man he called "Doc" died nearly four years ago, Rice stayed on to work at the hospital. He loves the animals, and he loves the Grady family like his own.
"Sometimes I think we're taking care of Jay," says Marsha Grady Weiss, Karl's daughter, the business manager who runs the clinic with her brother, Dr. Jeff Grady. "But Jay is really taking care of us."
Rice, who lives with Letticia Townsley-his companion of nearly 25 years-in Finneytown, drives Jeff's two young children to dance recitals and ball practice. When the Gradys are away, he watches over their homes and feeds their pets. And he takes their widowed mother, Jean, and her friends on day trips. Some might assume this relationship is only paternalistic-a vestige of the Old South, when white families took in African-American families as servants. But for Rice and Doc Grady it was more-a long, loving friendship that transcended all barriers.
"I've never seen anybody more close," says Townsley. "They talked about everything with each other."
Childhood Friends
They grew up playing together in the tiny town of Munfordville, Kentucky, near Mammoth Cave. There is a poignant picture of them standing in front of a car in 1942, when Karl was 17 and Jay was 12. Karl looks confident and handsome in his suit and tie, his hand playfully draped over Jay's head. And even then, Jay wears his familiar smile.
"That's a 1941 Pontiac," Rice says, almost to himself, while looking at the framed photo. "They traded a '37 Chevrolet for that Pontiac."
"Yep. We were together for a long time."
Ella Mae, Karl's mother, made pillows for Rice so he could see from behind the steering wheel. He began driving for the family when he was 12.
As they grew older, the men lost contact briefly. From 1952 to 1953, Rice served in the Army in Korea. After a stint in the Air Force, Grady earned a degree in 1959 from the College of Veterinary Medicine at The Ohio State University.
Sometime after that, on one of his visits home, Doc Grady promised Rice that when he opened his veterinary practice, he would hire him. That's why Rice didn't hesitate when Doc called that Sunday morning-May 13, 1960.
"There was just three of us then," says Rice, who had worked as a mechanic at a Munfordville gas station. "Me, Doc, and a receptionist. We did everything together."
He never took classes to become a vet's assistant. He learned by watching Doc.
The next year, Rice's parents, Joe and Essie, moved to Cincinnati to work for the Grady family. Essie cared for the four Grady children and Joe helped at the clinic. Business grew as more vets joined the practice, but the bond between Doc Grady and Rice remained strong.
There is a story about a young assertive vet who, in the early 1970s, announced to Doc Grady that he could no longer work with Rice. He never said why, nor did Doc bother to ask.
"You can go pack up your desk then," Doc told the young vet. End of story.
Vet assistant Robert McCabe remembers his first day at the hospital in 1997 when Doc Grady took him into the lunchroom and introduced him to Rice. "There's only one person here who can give that man a hard time," Doc Grady said with a grin. "Me."
"They couldn't have been tighter," McCabe says of the two men.
McCabe and others are impressed by Rice's ability to understand and calm animals. Rice owns two German shepherds-Heather is just over a year old, and Reno, who is graying around the muzzle, is 13.
"Reno has mellowed out a little," he says. "But in his young days, he was a tough dog." Rice admits he'd rather be around dogs than many people. Yet his warm bedside manner extends to humans. He's had to console many owners who've come to have their pets put to sleep.
"It's tough," he says. "You just have to hope the animals are better off."
That afternoon, while holding a nervous tabby cat getting his nails trimmed, Rice recognizes the owner's name.
"Mrs. Meyer?" he says, his shirt already covered in cat hair. "She came to us 40 years ago looking for a place to board her cocker spaniel. Dog's name was Taffy." He takes the cat to the waiting room, where he greets and hugs Virginia Meyer of Wyoming.
"I remember when we'd come back to pick Taffy up, she'd be wiggling and happy," she says. "I think that was because Jay took good care of her."
Naturally, he has slowed down. After a heart attack 10 years ago, Rice began splitting his days-going home in the afternoon for a nap and coming back at 5 p.m. to work two more hours. He still works five days a week.
Slowing Down
He no longer lifts large dogs to the exam tables. Now, he mostly handles small dogs and cats. Sometimes, when the lobby is full of waiting pets and their owners, Rice will go out and talk to the green parrot named Stella to entertain everyone. He has no plans to retire.
"Right after my father died, he kind of struggled," Jeff Grady says. "I think he was worried about his role changing here. But I told him, as long as he wanted, he had a job. You couldn't ask for a better person."
So it was fitting that Rice drove Doc to the doctor that day in July 2000. On the way home, he was the first to hear his friend had colon cancer.
Always confident, Doc Grady was determined to fight the disease. Rice took him to chemotherapy treatments. But the cancer finally won the battle. Doc died Nov. 14, 2001, at age 76. Rice served as pallbearer that unusually warm and sunny autumn day at Spring Grove Cemetery. Then he sat with the family to grieve and cry.
He still has difficulty talking about the loss of his friend, staring down quietly at his spotless sneakers. But Rice speaks up when asked about their most obvious difference-that he is black and Doc was white. It never, ever mattered, he says.
"We were just close," Rice says. "Everybody knew that."