Get to Know Our Veterinary Technician Team
At Grady Veterinary Hospital, we have a strong team of 29 Veterinary Technicians and two Lab Professionals. Today, we're featuring 17 of our valued staff. Enjoy getting to know more about them!
Ashley Price is a Registered Veterinary Technician who started her Grady Veterinary Hospital career in 2023. She has always had a special love for animals, and it's been her dream to work with them. She says, "I love taking care of animals when they are in need and being their person when their owners cannot be there." Ashley's responsibilities include helping doctors with surgeries, caring for hospitalized patients and seeing walk-in emergency cases.
Maria White joined the Grady Veterinary Hospital team in 2023. During the course of her day, she performs catheterizations, fills medications, draws labs, feeds patients who are staying with us and more. She really enjoys, "Putting the clients at ease from their worry and the patients at ease from their pain." Maria has always been drawn to animal care, and when she learned about Veterinary Technicians in high school, the rest was history!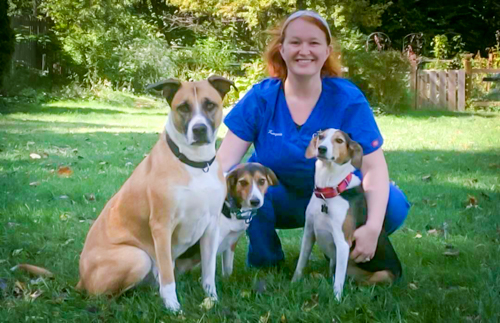 It was Kaycie McCarthy's childhood dream to become a Registered Veterinary Technician, and she was able to achieve her ambition with encouragement and support from family and friends! She joined the Grady Veterinary Hospital team in 2023, and says, "My favorite moments are the spark of excitement and delight when a pet is reunited with their family. Bringing an animal peace and comfort when they are in an unfamiliar place is so fulfilling." Kaycie is dedicated to being considerate, responsible and compassionate.
In 2023, Registered Veterinary Technician Cari started her career with Grady Veterinary Hospital, and she can't imagine doing anything else! After witnessing the suffering of her childhood dog, she decided, "I want to be an advocate for those who can't speak for themselves." She loves educating clients about animal husbandry and how rewarding it is to see animals go home wagging their tails or purring after being healed of an illness. Cari finds fulfillment in giving back to the community and working as a team to save patients' lives.
Meaghan T started as a Veterinary Technician with Grady Vet in 2020. She takes care of hospitalized patients and assists the doctors with any other treatments that are needed. She has loved animals her whole life, and she jumped at the chance to start a career helping them. Meaghan says she enjoys, "Helping clients understand that we are here to help them and their pets."
Cole Zint started with Grady Vet in 2019 and earned a promotion to Veterinary Technician. His important role at the hospital centers around patient care, triage and treatment. He says, "It's a pleasure seeing clients satisfied with the care we give to their pets." Cole grew up with animals and enjoys spending time with his dogs Bella and Mizuno and cat Mini.
Natosha became one of our valued Veterinary Technicians in 2018. She reflects, "I am usually a very introverted person, but being the connection between people and their furry family members brings me out of my shell." As part of the Grady Veterinary Hospital team, Natosha draws labs, monitors and administers anesthesia during surgeries, performs daily treatments for our hospital patients and helps patients during appointments.
Selina Greene is a Registered Veterinary Technician and has been a valued member of the Grady Veterinary Hospital team since 2016. Her role is vital for caring and treating patients, consoling and updating clients, assisting our Veterinarians and filling prescriptions. She's passionate about her calling, saying, "Being a nurse to animals is the most fulfilling work I could imagine outside my home. I just genuinely love them all!" Selina also loves to educate and aid owners in caring for their pets post-hospitalization, for the pet's overall wellness.
Melanie Lawall joined our Veterinary Technician team in 2016 as an already experienced technician. During her overnight shifts, she addresses emergencies, treats patients staying in the hospital and monitors anesthesia during emergency surgeries. She says, "I was an animal-crazy kid growing up, and spent most of my free time around them. I love saving the lives of the animals who come to us."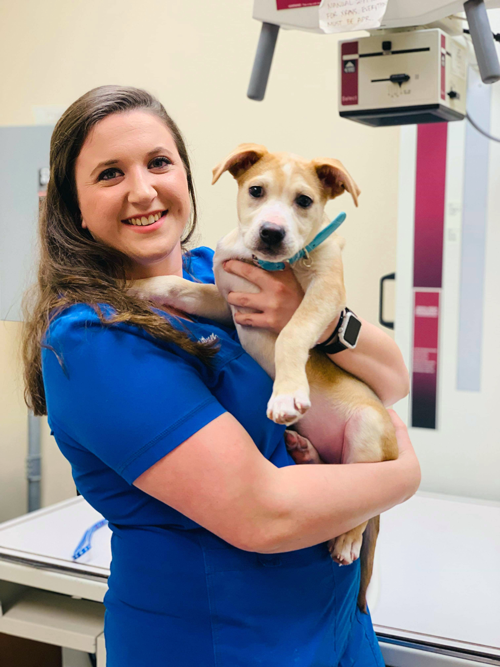 Kaitlyn Mills joined the Grady Vet team in 2015, and she is a Veterinary Technician who works third shift. She cares for emergency patients, along with administering treatments for our ICU patients. Her goal is to make animals feel like Grady Vet is their home away from home and help keep their humans up to date on what's happening. She says of her love for animals, "Animals love us unconditionally, so I want to do that for them as well. They deserve it!"
After a previous career, Kristn McCann made the decision to become a Veterinary Technician and change her life. She adds, "It was the best decision I ever made. I have always wanted to work with animals." She joined Grady Vet in 2014, and performs important work like IV catheters, X-Rays, blood draws, assisting in surgeries and more. Her favorite part of the job is seeing animals recover after a long illness.
An experienced Veterinary Technician, Erin Rausch started at Grady Veterinary Hospital 2007. She provides compassionate and expert nursing care for sick pets. She remembers, "Growing up, I always knew I wanted to have a career that involved helping animals," and we are so happy she joined our team! At Grady Vet, we all work together for the best of our patients and clients.
Tiffany Kidd is a Registered Veterinary Technician, and she joined the Grady Veterinary Hospital team in 2006. Her experience and expertise are critical to patient care during surgeries, emergencies and wellness appointments. About why she chose a career helping animals, Tiffany says, "I can relate to people who love animals. I tried human medicine, but it wasn't for me." We are certainly glad she found her way to veterinary medicine!
Kim Duffey is a Veterinary Technician in Grady Veterinary Hospital's emergency room and mostly works second shift. She has been caring for animals with our team since 2006. Working in the ER is fast-paced and challenging. She says, "I've always wanted to work with animals, and being a veterinary technician lets me be hands-on with animals and interact with clients. I love my job most when a challenging case comes into the ER, and we are able to help—to tell the client their animal has a better prognosis now."
Kristen Rogers is a veteran Registered Veterinary Technician, having started at Grady Veterinary hospital in 2003. She enjoys the variety of her daily responsibilities, from internal medicine to surgery to general patient wellness care. She adds, "I like building relationships with clients and their pets, and I love seeing when pets who have been sick are feeling better." Kristen has loved animals all her life and wanted to work with them since she was a little girl!
Caleb Yoder has been part of the Grady Vet team since 1998, working in different roles. He's a Lab Technician who runs blood work like heartworm, blood count and chemistries. The lab is process-oriented and requires an attention to detail that Caleb specializes in. He explains his love of our patients, "Animals have an innocence, ability to trust and to like everyone, regardless of who they meet." He's pictured here with his lab assistants and future blood donor cats, Liam and Noll.
Veterinary Technician Robert McCabe has been a familiar sight around Grady Veterinary Hospital since 1997. He enjoys the challenge of keeping up with advances in veterinary medicine, "We've seen a lot of improvements, especially when it comes to anesthetics and managing acute or chronic pain. These advances help animals so much. Once you ease their pain, you see how their personality changes when they are finally comfortable." For Robert, it's all about connecting with animals and people, "I've always had a bond with animals. And I love getting to know clients and patients on a first-name basis, making connections."
Patrick Weaver is a true veteran of Grady Veterinary Hospital, being a valued part of our team since 1989. As a Veterinary Technician, he's impressed at how veterinary technology has improved over the years, "When I started, we didn't even have computers. Now we have a CT scanner. Medical technology has grown so much, and it helps us heal and help more animals." Patrick also performs inventory for the hospital, which is an important, behind-the-scenes challenge!