Dangerous Holiday Pet Pictures You Should Never Take
Keep it Cute… and Safe
While researching free stock photos for our holiday safety tips, we became alarmed at the number of dangerous situations pets were being posed in. Please keep your cat or dog's safety in mind when planning those fun holiday photo shoots.
Holiday Pet Safety Tip: No Tinsel or Ribbon
If you have pets in your household, it's best not to use tinsel at all. This shiny metallic decoration is incredibly tempting to cats (and some dogs!). Ingesting tinsel can cause intestinal blockages. It's definitely a dangerous idea to pose your cat in large amounts of tinsel.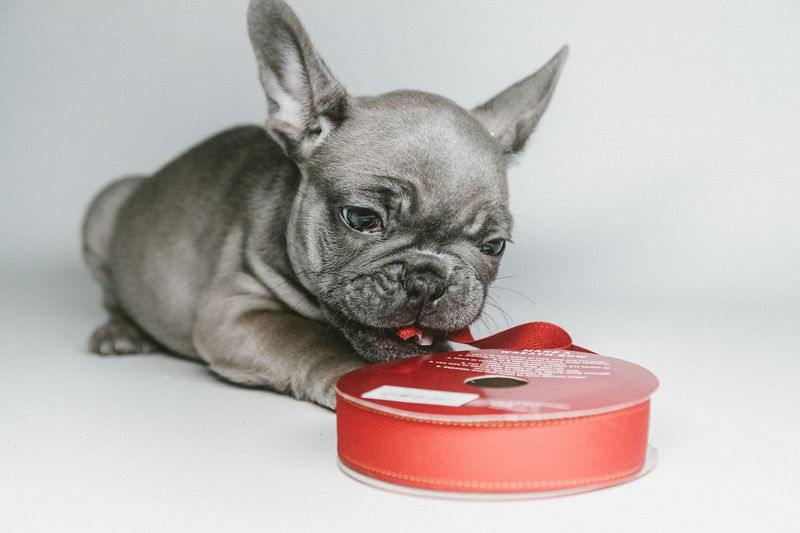 Like tinsel, ingesting ribbon can also cause intestinal blockage. This picture shows a dog being allowed to actually chew on ribbon.
Holiday Pet Safety Tip: No Toxic Plants
Mistletoe, holly, poinsettias and lilies are all toxic to dogs and/or cats. It's safest to keep these live plants out of your house. But especially don't let your pet sniff, lick or chew on a toxic plant for a photo shoot! It doesn't matter how cute the shot might be, if your pet could die from it.
Even if the mistletoe in this photo is artificial, it's covered in glitter, which also shouldn't be ingested.
Holiday Pet Safety Tip: Absolutely No Alcohol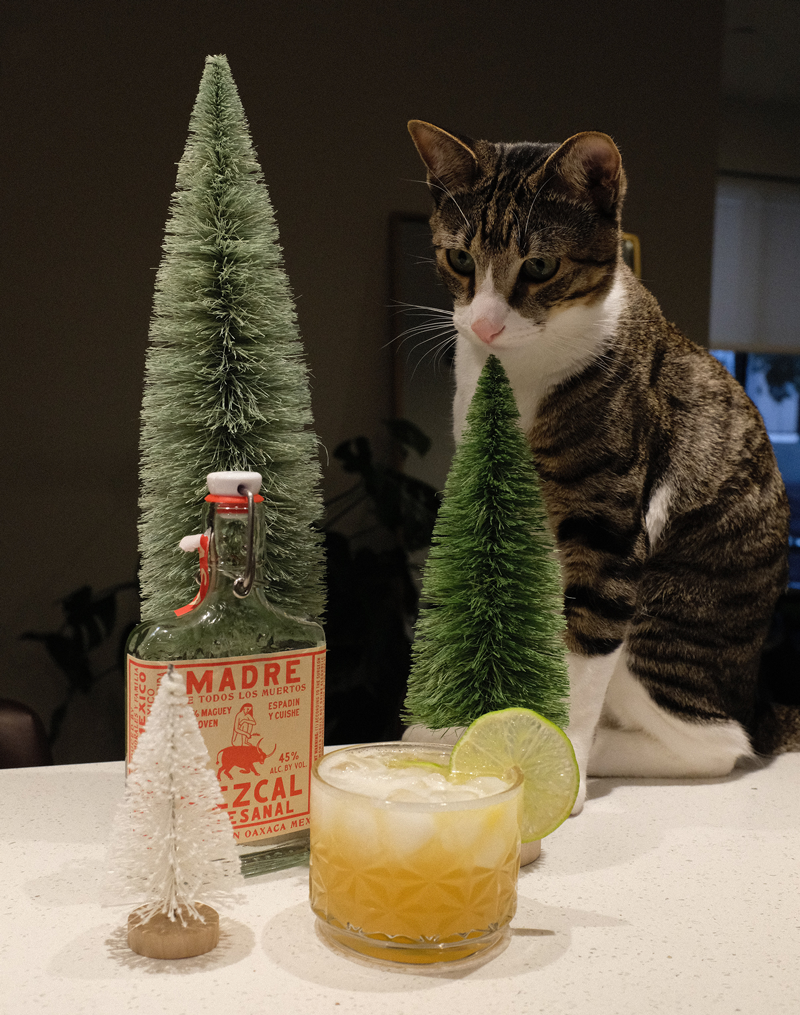 Alcohol consumption is dangerous for animals. Ethanol and hops can cause toxicity that leads to vomiting, disorientation, high body temperature, muscle tremors and seizures, and more. It's not funny or cute to pose your beloved pet with a substance that could send them to the ER (or worse).
Holiday Pet Safety Tip: Don't Get Tangled Up in Lights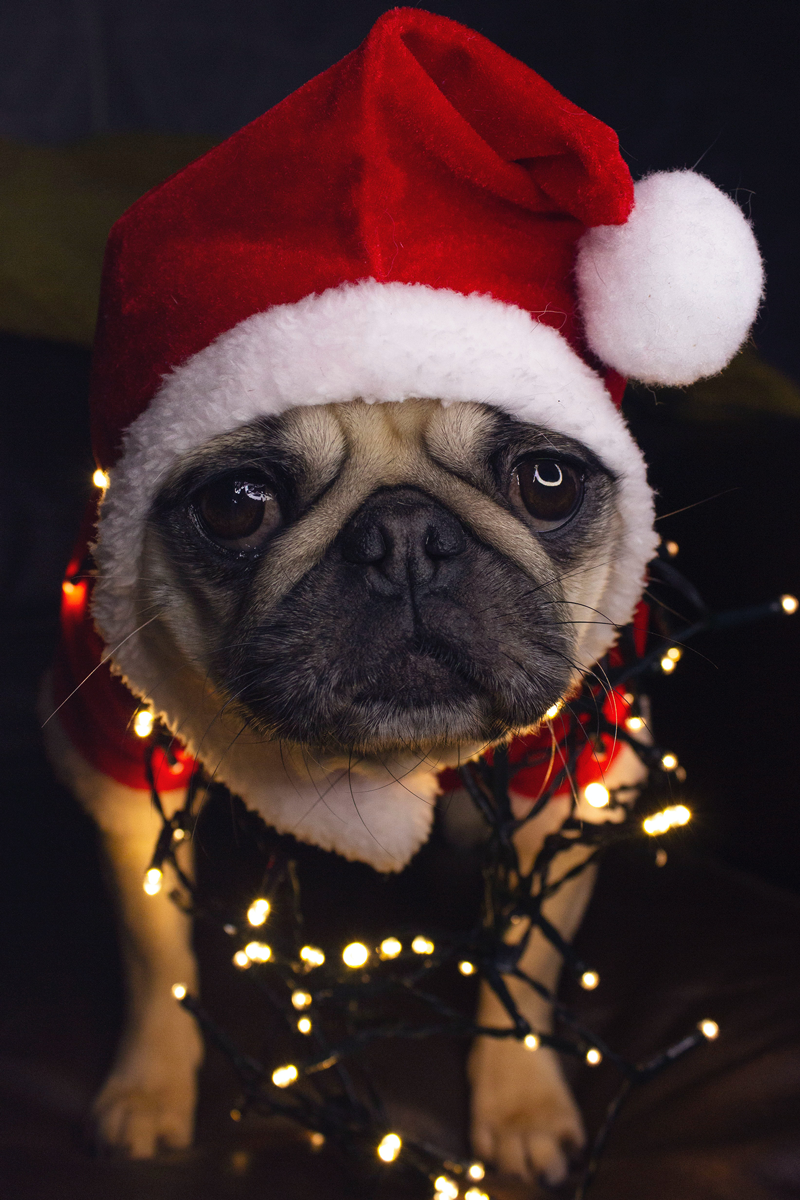 Strings of Christmas lights are popular props for animal and baby pictures. It's true that the effect can be beautiful, but it's ill-advised. Electricity is running through those wires, and they are so tempting for pets to chew on.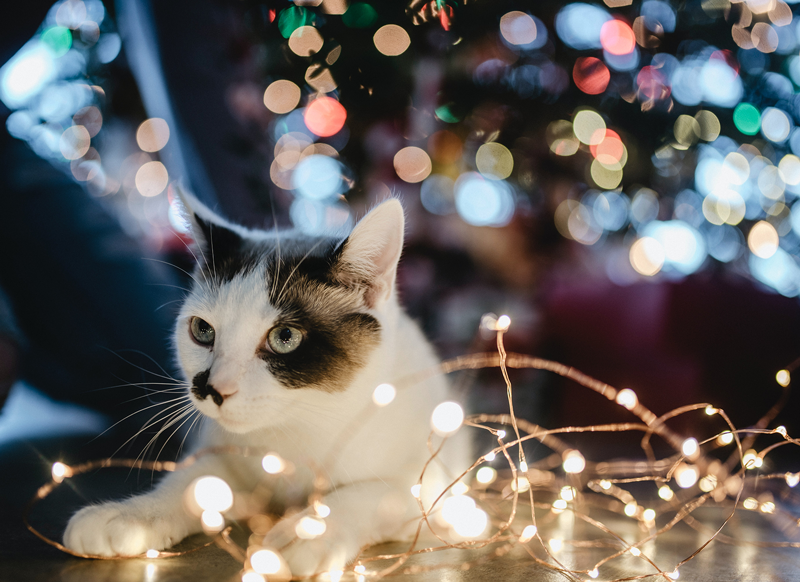 Remember that unfortunate cat in the movie Christmas Vacation? Don't let a similar tragedy happen to your pet.
Holiday Pet Safety Tip: Know About Toxic Foods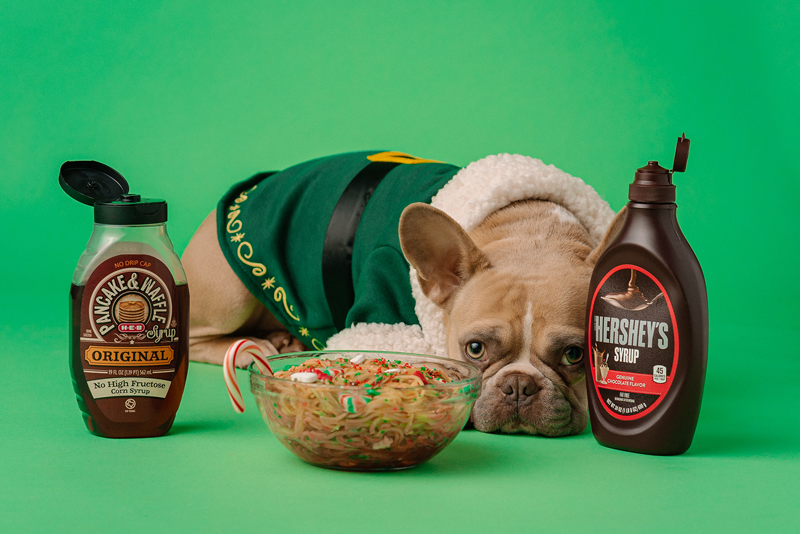 This picture has it all when it comes to a dangerous photo shoot: An open container of chocolate syrup and candy in a bowl. We all love the movie Elf, but the photographer needs to think of new, safer ways to pay homage to this Christmas classic.
Safe Ideas for Adorable Holiday Photo Shoots with Your Pet
In years past, we at Grady Vet have sponsored holiday pet photo shoots at the hospital. We've seen some adorable photos and suggest these safe prop alternatives:
Holiday-themed pet clothing or costumes: We've seen Santa hats, elf sweaters and more
Festive collars: Bow ties, jingle bells and more
A safely-decorated tree as a backdrop: Shatterproof ornaments and lights that have the cord secured to the floor
Pet-safe holiday treats: Like those you can find at Pet People's Bark 'n Bakery
Fuzzy blankets that look like snow
Baskets, buckets or holiday themed-totes to sit in
Enjoy planning your holiday pet photo shoot! And feel free to share your pictures on our Facebook page.