Introducing 4 New Veterinary Receptionists
Celebrating Veterinary Receptionist Week 2023!
We're excited when new members join our veterinary team, and we are eager to introduce them to you. Veterinary Receptionist Week is the perfect time to honor and recognize these vital employees.
Meet Amy, Gabrielle, Lori and Meg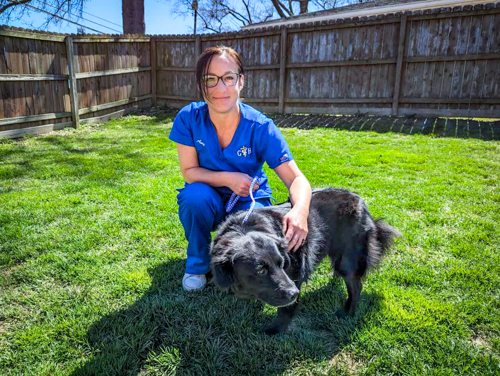 In 2023, Amy joined the Grady Veterinary Hospital team as a valued Veterinary Receptionist. She helps clients check in and out and other important customer service roles. It's also crucial to keep the hospital clean and tidy. Amy explains, "I've always worked in customer service, and I've always loved animals, so working at Grady's has been a great fit!" Currently, her family includes both a dog and cat.
When her pet was sick, Gabrielle appreciated the Grady Veterinary Hospital team's care and compassion. She says, "I share the same values, and I wanted to become part of the team." So, she joined the hospital as a Veterinary Receptionist in October 2022. She is one of the first staff members to see a pet as they come in, and she is also the last staff member clients see when they leave. Gabrielle's role is vitally important in leading pets to health.
Lori Vogt comes to Grady Veterinary Hospital after previously working in a human ER ward. She explains, "I liked my work but thought working with animals would be even more perfect for me." She became a Veterinary Receptionist in 2023, where she helps clients at the front desk and over the phone. She is a self-professed animal lover and certainly loves her labraheeler.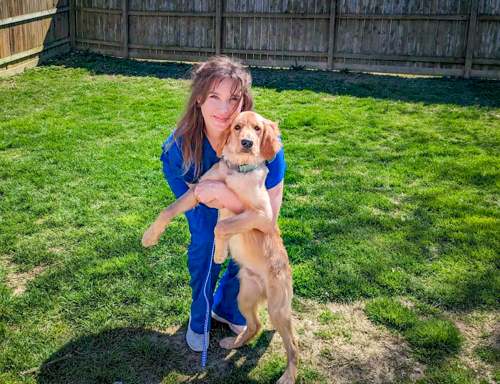 Meg Fletcher started her career with Grady Veterinary Hospital during 2023 in the important role of Veterinary Receptionist. Her day is never boring, and she adds, "I love the fast-paced environment and never-ending excitement that every day brings!" Meg also feels good knowing there is no better place for hurt or sick pets than Grady Vet, and her team appreciates her hard work.
And Three Cheers to our Veteran Veterinary Receptionists
Say hello to a few of our more experienced Veterinary Receptionists who keep our hospital running smoothly, answer client questions and provide compassionate care to our patients. While you've likely talked to many of them, take a moment to get to know them a little more.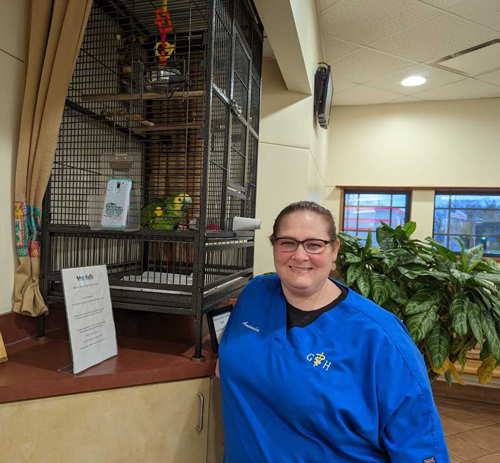 You've seen Receptionist Amanda Jones' posts on Facebook! She's one of Grady Veterinary Hospital's Facebook ambassadors. She's been part of our team since 2005, and she learned about Grady Vet when, as a K9 Officer, her husband brought his canine partner here for care. Along with her other responsibilities, she also helps train new receptionists at the practice. Amanda says her favorite part of her job is, "Watching the relationship between people and their pets. It's nice to be around people who have an obvious love for their animals."
Nancy Fountain came to Grady Veterinary Hospital from a career in the performing arts, and she's been a Receptionist since 2012. She says, "The culture is welcoming, and I enjoy the people I work with. Some have been here 25 years or more! We strive to provide excellent care, and we all feel we are a special part of what goes on at the hospital." With a degree in clothing, textiles and costume design, Nancy also does sewing for the hospital, including Buffy's cage cover, IV bag covers, mending surgical garments and hemming scrub pants.
Shelley has been on the Receptionist team at Grady Veterinary Hospital since 2014. She says that one of her favorite things about working here is when a pet is doing much better after being hospitalized and gets to go home. It is so satisfying to see the reunion between the pet and their owners. Everyone is so happy to be together again. To witness this love between pets and their owners is amazing!
You may have met Lindsey Kahn, who started as a Receptionist with Grady Veterinary Hospital in 2016. She enjoys getting to know our regular clients while answering the phone, making appointments and checking patients in. She's worked with animals at an animal shelter and zoo before joining our team. She says, "I love working alongside everyone here, because, like me, they are so passionate about pets. It's wonderful to be surrounded by compassionate people."
Since starting at Grady Veterinary Hospital in 2015, receptionist Jody Hughes says, "There's never a dull moment!" Jody was interested in changing her career when she noticed the hospital advertising an open receptionist position. She brought in her resume during her new puppy's well visit, and we've been happy to have her on the team ever since.
Pam Montgomery has been a Veterinary Receptionist for over 15 years, and she started with the Grady Veterinary Hospital team in 2016. She loves helping both animals and their people. Pam adds, "I share in the joys and sorrows or our clients and try to be a comfort to them. We understand they are here with a sick or injured animal and both person and pet needs compassion from us."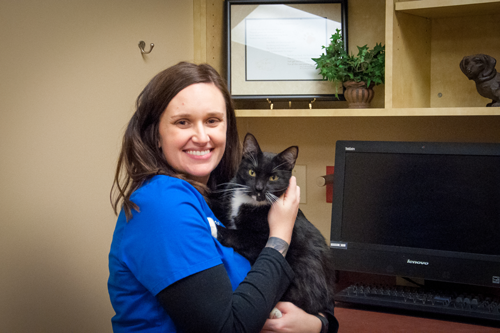 Katy Sanderson joined Grady Vet in 2018. She's an experienced veterinary receptionist who now works emergency shift. A critical part of her job is communicating with doctors and veterinary technicians when emergencies come into the hospital and need immediate attention. Now, she's also attending school to become a veterinary technician, saying, "Working here makes me realize I want to be part of critical care. When an animal comes in seemingly near-death, then ends up going home a few days later, it's amazing."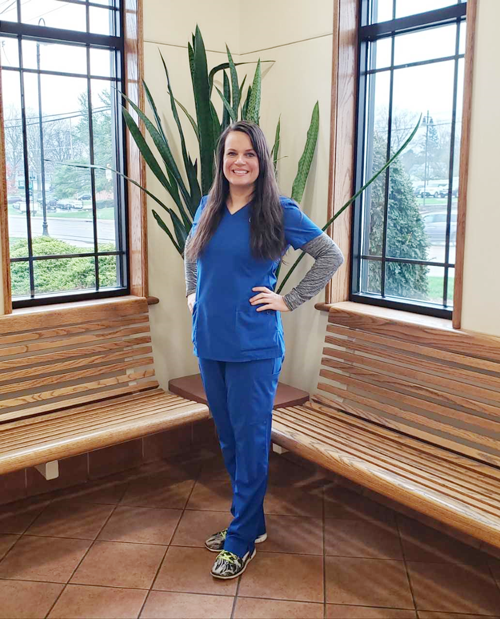 Lauren Mehl started as a Veterinary Receptionist with Grady Vet in 2021 after a great career in pet retail and dog training. Her days keep her busy answering phones, getting pets ready to be seen by the doctor and calming both clients and pets during emergencies. She says, "I love to talk to clients about pet stories, learning about their pets, so I can make sure they get the best care possible." Lauren shares her home with both dogs and fish.