Animal Internal Medicine at Grady Vet
Simply put, animal internal medicine is the care of sick pets, and Internist Dr. Beth McElravy, DVM, DACVIM heads up the veterinary internal medicine department of Grady Veterinary Hospital.
An internist sees animals that have been referred by their veterinarian. If your cat or dog has never suffered serious illness before, you may have never considered that veterinary internists exist.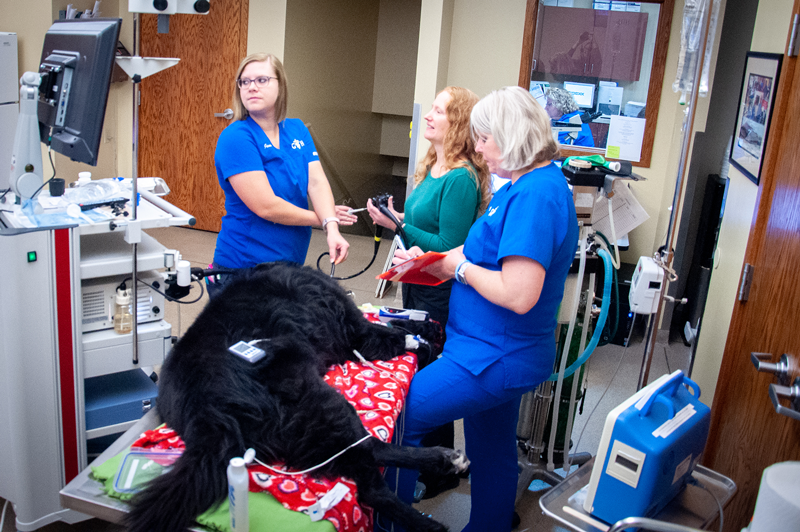 3 Reasons Why Your Veterinarian May Refer Your Pet to an Internist
Grady Vet's internal medicine staff work closely with referring veterinarians to provide the best diagnostics and care for sick pets. Here are the three main reasons your veterinarian may refer you to us:
Diagnostic testing: If your pet needs a test not offered at their normal veterinary practice, such as an ultrasound or CT
Symptoms are difficult to diagnose: Some ailments and symptoms might not present a clear diagnosis
Treatment is complicated: The diagnosis is clear, but treatment would best be carried out by a specialist
What an Animal Internal Medicine Department Treats
At Grady Veterinary Hospital, our internal medicine team treats many diseases, including:
Liver diseases
Kidney diseases
Stomach/intestinal diseases
Hormonal disorders
Infectious diseases
Immune system diseases
Lung diseases
Blood disorders
A pet needing care from the internal medicine department benefits from a partnership between owner, referring veterinarian and internist. We learn all we can about your pet before diagnosis and treatment recommendations. Like you, we love your pet and understand how important your beloved animal is to you.
Internal Medicine Video
Watch the video: About Internal Medicine at Grady Veterinary Hospital
Learn more about veterinary internal medicine at Grady Vet.