Adopt a Dog in Cincinnati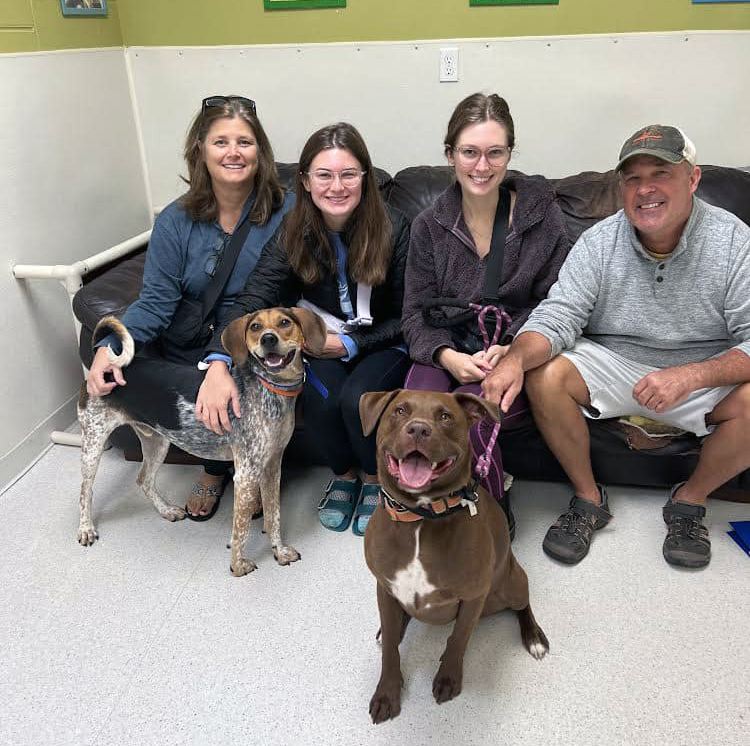 Celebrating ASPCA's Adopt-a-Shelter-Dog Month
Are you looking to adopt a dog in Cincinnati? We're highlighting Save the Animals Foundation's Furry Feature of the Week for 3 wonderful pooches: Fantasia, Cadbury and Pharoah. Every October, we like to dedicate the month to raising awareness for shelter dog adoption, fostering, volunteering and shelter donation.
So, read the stories of these three dogs currently calling Save the Animals Foundation (STAF) their home, and see if one speaks to you.
Adopt a Dog: Fantasia
"Meet Fantasia, a 4-year-old American Staffordshire Terrier Mix. Her estimated birth date is 2018.

"Welcome to Fantasia! This 4-year-old meatball was first brought to STAF as a stray a few weeks ago, but we were unable to keep her at that time and took her to Cincinnati Animal Care. Despite only meeting her briefly, she had already wiggled her way into the hearts of our intake team, and they couldn't get her off their minds. When space opened up in our shelter (thanks to the amazing work of our adoption team), the team immediately thought of Fantasia, and they brought her back to STAF.

"This girl has quite the personality! She is equal parts sweet/loving and class clown. Fantasia is great with all people, including the staff at the Vet's office. Her name on her chip is Gorda which is Spanish for "fat girl" a term of endearment in some Latino cultures. She does not seem to know commands in English, but a volunteer said, sientate Gorda, (sit in Spanish) and she sat immediately! Unfortunately, she has a rough road ahead of her as she undergoes heartworm treatments, but we'll get her healthy in no time!"
Adopt a Dog: Cadbury
"Meet Cadbury! Cadbury is an approximately 5-8 year old female chocolate lab. She was surrendered to a rescue in July so we don't know much about her life before arriving to STAF, but we do know that she is a wonderful dog!
"Cadbury has a typical happy-go-lucky Labrador personality. She loves people, other dogs, taking walks, playing fetch, and getting affection. She is an excellent walker on a leash as well. She is well behaved and seems to have very good manners already. She is going to make a someone an excellent best friend!"
Adopt a Dog: Pharoah
"Meet Pharoah, a 2-year-old Redbone Coonhound. His estimated birth date is 2020.
Our strikingly handsome Pharoah was found running loose on a rural Kentucky road. The people who found him called Animal Control and were told that the County shelter was full. A sister rescue organization stepped up and took him in and quickly got him to a vet. Pharoah was literally starving to death.
"Now, our boy has filled out very nicely and is full of energy and curiosity. Pharoah has an adorable furrowed brow when he is outside in our yard sniffing along the fence. But soon enough he will jump up on the bench looking for a volunteer to give him snuggles and belly rubs. He is a real sweetheart. Pharoah has also made some doggie friends here at STAF and they really enjoy romping and playing together."
More About Adopting a Dog from STAF
STAF is dedicated to finding safe, loving forever homes for the animals in their care. Before reaching out to them about one of these delightful dogs, check out their adoption policies. Note:
The adopting human must be ages 21+
Families with children are required to have a 4′ fence
Homes with invisible fences are not allowed
Shelter Dogs Are Lucky to Be at STAF
Some of STAF's guidelines may seem restrictive to potential adopting families, but Save the Animals Foundation invests much medical care, training and love into each one of their dogs. If you adopt a dog from STAF, you can be certain:
It's a no-kill shelter
Animal living areas are cleaned twice each day
Each animal is fed a high-quality diet
Animals receive regular veterinary care, including wellness care and treatment for illness and injury
All animals are spayed or neutered
Each animal receives individual attention and socialization
Many dogs are enrolled in obedience training or live in a foster home
Enjoy this Adopt-a-Shelter-Dog month, and if you aren't ready to adopt a dog, consider making a donation to STAF.