3 FIV+ Cats to Fall in Love With
FIV+ Cats Live Full, Fantastic Lives, but Do Need to Be Kept Separate from Other Cats
These three cats from Save the Animals Foundation show just what an FIV+ cat has to offer: love, friendship and everything else we love about cats!
Skitty: Sweet and Silly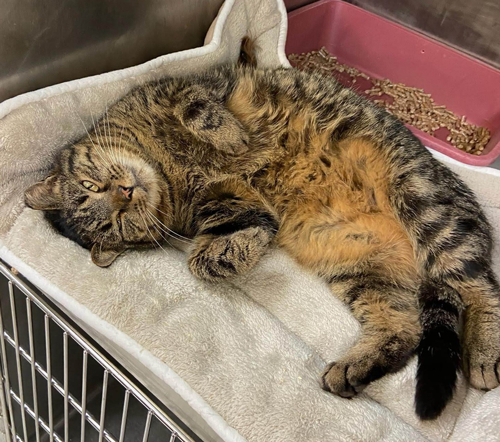 He came to STAF with the name of Skitty, but he should be named "Sweety" or "Silly" since he is so grateful to make our acquaintance; he is now at the front of his cage rolling and waiting for belly rubs.
We were contacted for help to accept this magnificent tabby FIV+ boy since his owner was moving to an apartment that would not accept animals. We were told that she could not find placement due to his FIV status and, "that he loves cats, but is shy around people". With his preliminary test accurately proving he is FIV positive, perhaps his adorable and friendly personality suggests that we were misinformed about his "shy" personality. This guy will surely melt your heart!
Bob: One to Fight For
Once again, a STAF volunteer was off to the rescue as she was contacted by a woman letting her know that a "beaten up" cat had shown up at the woman's house. As soon as the volunteer could get to Bob, she trapped him and took him to the vet right away.
All of Bob's battle wounds were treated, he was neutered, and he was brought to safety. This handsome grey and white boy surely tested FIV positive (to be expected) by the fact that he was truly out fighting for territory and food. He is still a bit shy while he is getting to know his new surroundings, but pretty soon, the only thing he will be "fighting for" is who's lap he will sit in!
Wade: Friendly and Fabulous
From our FIV waiting list, no waiting was needed in order to determine that Wade is a fabulous orange man! Wade was a transfer from a rural county shelter in Kentucky and we were told that he is sweet, loves petting, attention, and belly rubs, which so far has proven true.
Wade is making fast friends at the shelter, and one of our volunteers has already fallen head-over-heels for this guy!