Veterinary Staff
Dr. Jeff Grady, DVM
Owner
I grew up working with my father, Dr. Karl Grady, at Grady Veterinary Hospital. I always thought it was great to be able to help animals in this way. Even today, clients will tell me, "I remember when you were 5 years old and your father gave you a nickel for cleaning under the exam tables!" So I guess you could say I grew up around the business. I never really considered another career. Even in high school, I concentrated on math and science because I knew that would help me get into veterinary school.
I graduated from Mississippi State University College of Veterinary Medicine in 1990 and began working at Grady Veterinary Hospital the next week. I took over the practice in 2001 from my father. He taught all of us here the importance of treating clients as we would want to be treated. In addition, he was always at the forefront of advances in veterinary medicine. We continue to embrace these values today at Grady Veterinary Hospital.
I'm lucky to have a wonderful and supportive wife, Karen, who is also a veterinarian and is understanding of the demands on my time. We are blessed with three great children, Olivia, Bennett, and Avery; along with three dogs, Dottie and Dewey (Boston Terriers), and Hannah a Golden Retriever; and three cats, Jewel, Cleo, and Kelly.
I'm very fortunate to love my work. While I enjoy all aspects of veterinary medicine, I have a special interest in surgery. I'm very proud to oversee the team of 50 professionals that provide exceptional service to you and your companions.
Dr. Ashley Barnett, DVM

I have wanted to be a veterinarian since my mother defined the word as "dog doctor" when I was 6 years old. Since high school, I have volunteered and worked as a technician in several veterinary clinics near Florence KY, where I grew up. I was a dog groomer while attending Thomas More College, where I received my bachelor's degree in biology and associate's degree in chemistry. I also worked for a summer at the Cincinnati Zoo. I attended veterinary school at Auburn University, and joined the Grady Veterinary Hospital family in 2016. I have special interests in emergency medicine and soft tissue surgery.
I currently live in Florence with my boyfriend Kevin and two feline fur babies, Koda and Beau. We enjoy camping, hiking, kayaking, reading, and traveling in our spare time.
Dr. Ariann Boylan, DVM

A life-long animal lover, I have always wanted to become a veterinarian. I am originally from New York City, and attended the University of Connecticut (Go Huskies!) where I received a Bachelor's in Animal Science. I moved to Ohio to attend The Ohio State University College of Veterinary Medicine, and received my Doctorate of Veterinary Medicine in 2015. My interests include emergency medicine, surgery, critical care and wound care.
I am new to the Cincinnati area and look forward to exploring the city with my boyfriend, our two dogs and our two cats. My hobbies outside of work include running, reading and hiking. I also love to try out new restaurants and breweries. Though I will always be a faithful Yankees fan, I look forward to experiencing the Cincinnati sports scene.
Dr. Jessica Brownfield, DVM

Like most veterinarians, I felt called to this profession even as a young child. When I was 15 years old I started working with animals in my first job as a kennel assistant. I continued my work as a veterinary assistant and technician with our companion animals throughout high school and college. I also tried my hand at bovine and equine work during my time at the University of Kentucky where I studied Animal Science.
I am a graduate of Auburn University's College of Veterinary Medicine. After four years away from the Northern Kentucky/Cincinnati area, I decided to return home to be close to my family. I joined Grady Veterinary Hospital in May of 2012 as a emergency veterinarian. My professional interests include emergency and critical care medicine, internal medicine, soft-tissue surgery and ultrasound.
My fiancé and I have several four-legged children including two dogs, Amelie and Leonard, and two cats, Boomer and Little Foot. We enjoy camping, traveling, reading and watching movies. We are also enthusiastic sports fans, following UK basketball, Auburn football and, of course, the Cincinnati Reds and Bengals.
Dr. Lauren Jurgens, DVM

Both of my parents are in the dental profession, so I knew from a young age that I wanted to do something in the medical field. I decided I wanted to become a veterinarian when I was 9, fueled by my ever-growing love for animals. I started working as a kennel assistant when I was 15, and through the years held several different jobs involving animals; one summer I even worked as a zookeeper because I thought I might want to go into zoo medicine.
I graduated from Wheaton College, near Chicago, where I was on the varsity swim team, and moved to Ohio for the first time to attend The Ohio State University College of Veterinary Medicine. My special interests include emergency medicine, surgery, dentistry, and behavior.
Some of my hobbies include swimming, running, rock climbing, hiking, reading, and going to concerts. I also love trying out new restaurants and occasionally try my hand at baking. I have a black lab mix named Jasmine, who I adopted after fostering her through a shelter program, and a cat, Khali, also a rescue. I'm new to the area and am excited to explore Cincinnati and find out all the great things it has to offer.
Dr. Debra Quiles, DVM

I graduated from Mississippi State University in 1988, and started practicing veterinary medicine at Grady Veterinary Hospital in June 1988.
For six years, I worked the night/emergency shift (7:00 pm - 7:00 am) at the hospital and thoroughly enjoyed it. My special interests are internal medicine, feline medicine, soft tissue surgery, and ultrasound.
Dr. Carolyn Russell, DVM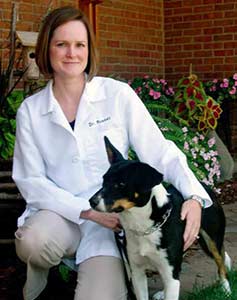 I have wanted to be a veterinarian since childhood. I attended undergraduate school at the University of Kentucky and graduated from Auburn University College of Veterinary Medicine.
My hobbies are skiing, golf, and scuba diving, and pets include two dogs and one cat.
Dr. Jimmy Swinney, DVM

From a very young age, I knew I wanted to be a veterinarian. I think my motivation for following this dream stems from the human-animal bond I saw firsthand with my pets growing up. My parents were instrumental in demonstrating to me the compassion and care necessary to work with animals.
I feel very fortunate to have the privilege of working with animals. My professional mission is to strengthen the human-animal bond by providing health and wellness care for animals and educating their owners.
I am a graduate of Auburn University College of Veterinary Medicine. I am a native of Louisville, Kentucky, and attended the University of Kentucky, graduating with a degree in biology. My interests include orthopedics, ophthalmology, emergency medicine, and ultrasound.
I am the proud owner of Shelby, a Border collie mix I adopted from the SPCA. In my free time, I enjoy golf, hiking, backpacking, camping, traveling, and following UK basketball and football and the Cincinnati Reds.
Dr. Pete Velotas, DVM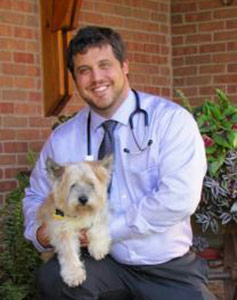 I grew up in Birmingham, Alabama, where I developed an intense curiosity about animals and science that would last a lifetime and lead me to the profession that I love as a veterinarian. I attended Auburn University for undergraduate studies. During this time I proudly served as an Auburn Cheerleader – War Eagle!! I continued studying for my veterinary degree at Auburn, allowing me to spend four more years in my adopted hometown.
My special interests in veterinary medicine include dermatology, ophthalmology and cardiology, as well as diagnostic imaging, clinical pathology and cytology.
I live in Hyde Park with my girlfriend Stephanie and our five dogs: Sutton (Greyhound), Maggie (German Shorthaired Pointer), Sadie (Black Lab), Jase (Chihuahua) and Lizzy (Cairn Terrier). In my spare time I enjoy going to the beach in the Florida Panhandle, stand-up paddleboarding, golfing, gardening, cooking and cheering on my Auburn Tigers in any sport.