Meet Our Veterinary Assistants
As we celebrate Veterinary Assistant Week, get to know six of our experienced and caring team members who care for our patients, support our team and keep our hospital environment in ideal condition.
Madison Baker joined the Grady Veterinary Hospital team in 2016 as a Veterinary Assistant. She has lots of experience with animals, volunteering at the Heartt Animal Refuge from 8th to 12th grade. She says, "My favorite part of my work is giving animals the best care I can and knowing that I'm looking after them. I like making them feel comfortable and happy."
Kristen Bohne started off her career in nursing, but soon realized her real passion is working with animals. She's been a Veterinary Assistant with Grady Veterinary Hospital since 2010, and works the emergency shift in the evenings. "I decided I liked animals better than people, I guess! Growing up, I was around so many animals. I had a horse, goat, cats and dogs. I've always been an animal lover."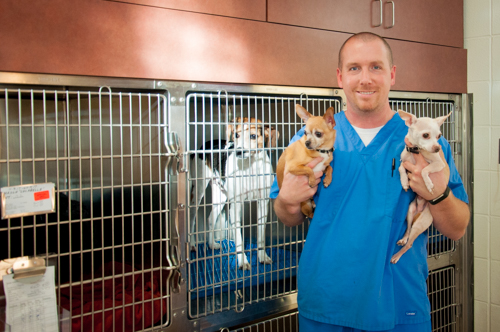 Brett Grundhoefer has worked with animals his entire life, since he started his career at Grady Veterinary Hospital in 2000. He's passionate about being a Veterinary Assistant and Dental Technician and says, "This was my first job. I love animals and getting to help them every day. It's nice coming into work and being greeted by a dog licking you in the face. The most gratifying part of my job is helping sick animals by cleaning their environment and making them more comfortable."
Stephanie Meyer is a Veterinary Assistant who joined the Grady Veterinary Hospital team in 2016. She has an important role in taking care of both patients and boarders, along with holding animals still while the veterinarians and veterinary technicians diagnose and treat them. Stephanie says, "I love the atmosphere here, and the animals are great. Everyone is nice and generous. The first time I visited Grady Vet, everyone said, 'Hi' as I walked in!"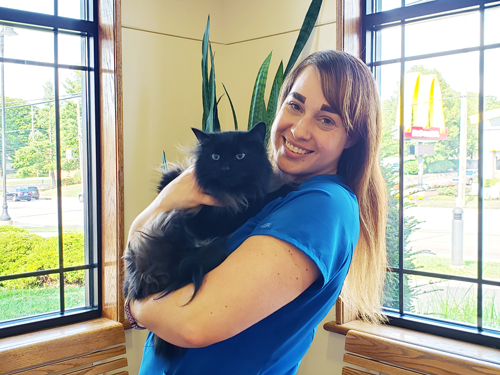 Monica Weber loves helping animals and knew she was meant to work with them. In 2019, she joined the Grady Vet team as a Veterinary Assistant. She says of her role, "It's hard but rewarding. It's worth all the work when you watch an animal get to go home and see the joy on the faces of both animals and people." Monica plans on advancing her career by studying to become a Veterinary Technician and is excited to share that the possibilities are endless in the veterinary field.
Cole Zint came to Grady Vet in 2019 as a Veterinary Assistant. His important role at the hospital centers around patient care and maintaining the cleanliness of the facility. He says, "It's a pleasure seeing clients satisfied with the care we give to their pets." Cole grew up with animals and enjoys spending time with his dogs Bella and Mizuno and cat Mini.